Family Houses
The book 'An Officer of the Long Parliament' is an account of the life and times of Colonel Richard Townesend (sic) and a chronicle of his descendants. Only seven of his ten sons married and of these six are extinct the male line. All Colonel Richard's descendants today derive from his second son, Colonel Bryan Townsend, who had nine sons but only five of them married. It is these five who constitute the various branches of the family as described in 'An Officer of the Long Parliament' and they are represented in the book by five 'Houses', namely:
This page of the website is devoted to a short history of each 'House' along with a chronicle of those who lived there and some of their kinsmen. In addition to the five 'Houses' shown above, Shepperton and Myross Wood have been included as they feature in these Records.
As mentioned on the Home page, some members of the family incorporated an 'h' into the spelling of their name after 1870 and I have tried to reflect this in these notes — it can be confusing.
The relevant Genealogical Table(s) are listed below the name of each 'House' all of which, with the exception of Skirtagh, are linked to the National Inventory of Architectural Heritage website 'Buildings of Ireland'. All map references relate to the Irish Discovery Series 1:50,000, 3rd Edition.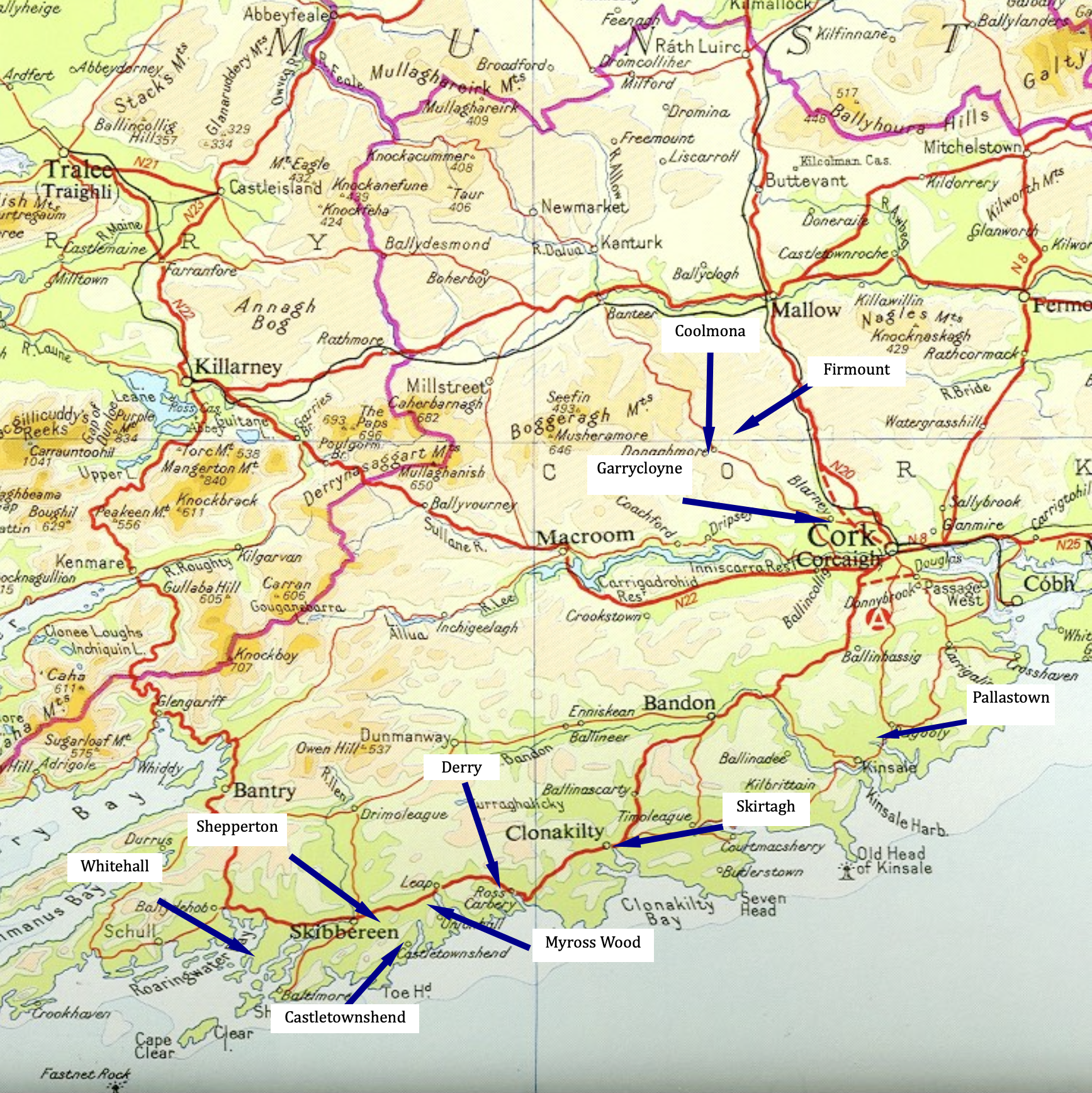 Owners
Castletownshend is situated at the head of the sheltered anchorage of Castlehaven 6km to the southwest of Skibbereen (Sheet 89 map reference W183314).
Whilst living at Kilbrittain Castle, near Courtmacsherry, Colonel Richard Townesend built extensively in Castletown, which subsequently became Castle Townsend and later Castletownshend. Firstly he built the Star Fort, later called Bryan's Fort, in about 1650. The fort stood on a hill overlooking the anchorage in the sheltered part of Castlehaven harbour and was built for security rather than comfort; it was a square building, defended by a bastion at each angle, loop-holed for small cannon and musketry.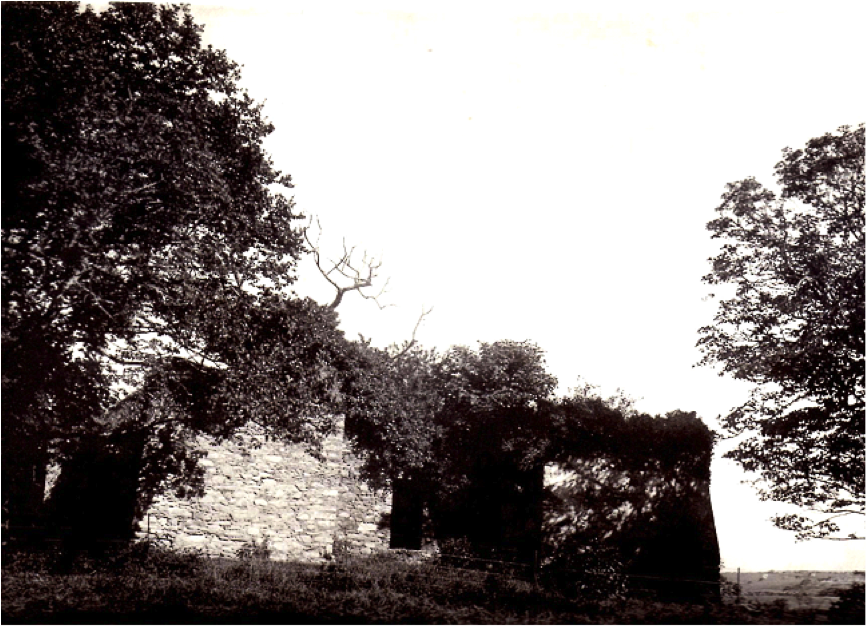 Bryan's Fort
Photograph Copied from 'An Officer of the Long Parliament' facing page 91
Following this Colonel Richard built a Castle below the fort and a Dower House close-by, both of which were situated near the shoreline. Moving to Castletown in about 1665 and faced with unsettled times, he was frequently engaged in various armed skirmishes with Irish rebels. In 1690, under command of Colonel O'Driscoll, the rebels unsuccessfully besieged The Castle. Soon after, it was attacked again by about 500 of them led by MacFineen O'Driscoll and Richard was forced to surrender. He was subsequently paid £40,000 in compensation for the destruction of his home. The Castle that was built in place of the one destroyed was situated some 50 metres to the west of Bryan's Fort.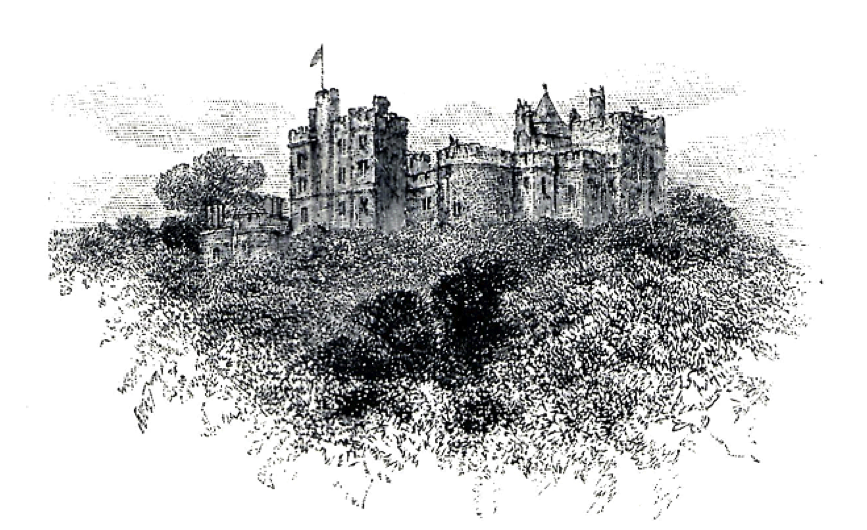 The Castle built to replace the one destroyed in 1690
Artist's Impression from 'An Officer of the Long Parliament' facing page 108
Colonel Richard's eldest son John pre-deceased his father, thus when Colonel Richard died in September 1692 he left the majority of the Castletownshend estate to his grandson Richard FitzJohn Townsend [113]. When he died unmarried in 1722 his inheritance passed to his uncle, Colonel Bryan Townsend [200], by then an old man who died four years later. Probate on Colonel Bryan's will was granted in 1727 and the estate passed to his eldest son, Richard Townsend [201], about whom nothing is known other than he was appointed a Justice of the Peace in 1715 and was High Sheriff for the County of Cork in 1726.
Richard died in November 1742 and, when his wife Elizabeth died a year later, their children were left in the care of their Uncles Samuel Townsend [400], Philip Townsend [500] and Horatio Townsend [600]. The eldest son, Richard Townsend [213], inherited the Castletownshend estate when he came of age in 1751 and he did much to improve the village during his lifetime. In his book 'Statistical Survey of the County of Cork' (published in 1810) Horatio Townsend [5D00] wrote — "Castle-Townsend, the first and principal seat of the family, whose name it bears, was nothing more than a neat and well built village adjoining the mansion-house, on the west side, until improved and extended by its late possessor, Richard Townsend, Esq. a commissioner of the revenue, and many years a representative of this county in parliament". Richard was High Sheriff for the County of Cork in 1753, a Justice of the Peace, Colonel of the County Cork Militia Dragoons, MP for County Cork and a Commissioner of Revenue.
Richard's eldest son, Richard Boyle Townsend [219] inherited the Castletownshend estate in 1783, the same year that he was elected MP for Dingle. Appointed a Justice of the Peace some ten years earlier and admitted a Freeman of the City of Cork in 1777, he was High Sheriff for the County of Cork in 1785 and was made a Freeman of Limerick in April that same year. In 1796 under threat of a French invasion Richard went to great expense to fortify Castletownshend and equip a flotilla to protect it. However foggy weather veiled the entrance to the harbour and the French fleet passed on to Bantry Bay.
Some nine years later when their eldest son, Richard Townsend [229], died suddenly aged nineteen in 1805, Richard's wife, Henrietta, felt that The Castle was not healthy - the ceilings were not high enough and it was decided to lower the floors. This done, the foundations could not take the strain and the house was a ruin. However, rather than re-build The Castle, the stones from the ruin were used to build castellated wings on the Dower House which then became The Castle and the family's main residence; though Richard and Henrietta thereafter lived mainly at 8 Montague Square in London or at their house in Wiltshire.
When Richard Boyle died in Dublin in 1826, the Castletownshend estate passed to his eldest surviving son, Colonel John Townsend [230], who left the management of it to his mother as he was away soldiering with his Regiment. Eighteen years later, whilst in command of the 14th Light Dragoons in India, he contracted 'Indian ague' and embarked for England in November 1844 in order to recover his health. Landing in January 1845, he died unmarried three months later at Castletownshend and the property thus passed to his brother, Maurice FitzGerald Stephens Townshend [231], who at the time was Vicar of St Mary's Parish Church, Thornbury, Gloucestershire.
Disaster struck again in 1852 when the newly built East Wing of the Dower House caught fire and the blaze was so fierce that the large quantity of silver stored at the top of the wing ran down in molten streams. Maurice sent a Bristol silversmith to search the ruins to value the silver by the pound, which he did and promptly disappeared to America with a large part of it! The family still have some of that silver, all misshapen from the fire. The East Wing was re-built soon after the fire and The Castle has remained unchanged in appearance ever since.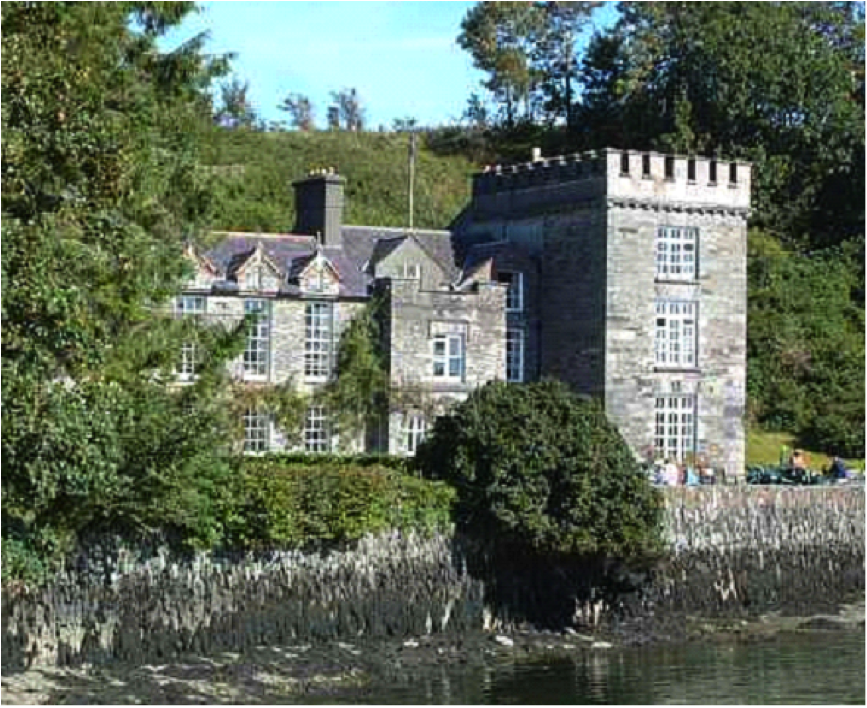 The Dower House with castellated wings — now the present day Castle.
'An Officer of the Long Parliament' records that Maurice was "a ripe classical scholar of original wit and retentive memory" as well as being a benevolent landlord who did much to alleviate the suffering of his tenants during the years of famine. Whilst he took a great interest in the Castletownshend estate, his parish in Thornbury must have been his principle concern forcing him to leave the daily affairs of Castletownshend to an agent. His son, Henry John Townshend [251], who relinquished his commission in the 2nd Life Guards in 1857 might well have acted as his father's agent. However he died in 1869, pre-deceasing his father, so when Maurice died in 1872 Henry John's two sisters, Geraldine Townshend [252] and Alice Townshend [253], were left in equal share a 'life interest successively' in the Castletownshend estate which was entailed1 to Henry John's eldest son Maurice FitzGerald Townshend [263], aged seven at the time. Geraldine, looked after the estate with help from her nephew Hubert de Burgh Townshend [264], who acted as her agent between 1891 and 1897.
In 1894 a substantial mortgage, raised some years previously on the estate by her father, was 'called in' and Geraldine was unable to find the capital to pay it off, despite seeking assistance from other members of the family. Consequently, The Castle and estate were put up for auction on 25 June 1897 and most of the estate was sold, whilst The Castle itself and surrounding land was bought by Charles Loftus Townshend [5C01] for a reputed sum of £14,000. The houses in the village on the north side of the road leading up the hill from The Castle were retained by the family, which they continue to own and use to this day. Because of the entailment, ownership of The Castle had to revert to the younger Maurice FitzGerald Townshend, on repayment of the loan, and in the early 1900's he regained possession of it, having repaid Charles Loftus.
During the early years of the new century The Castle was left empty or let and Maurice himself lived variously in Schull, Castletownshend and Glandore before moving into Shepperton (see below) when he married in 1913. The 1901 Irish Census shows Sir John Coghill, a widower aged 75, was renting The Castle, living there with his son and daughter-in-law, his daughter, two grandsons, a nephew, a nurse and six household staff. Ten years later the April 1911 Census shows Sir John's Coghill's son, Egerton, had succeeded to the baronetcy and was living in The Castle with his family, a nurse, a governess and five domestic staff. Both the 1901 Census and the 1911 Census show that Henry FitzJohn Townshend [260] was the only member of the family living in Castletownshend at that time; he lived at Seafield. Seafield was previously owned by Henry FitzJohn's father, John FitzHenry Townshend [250], Judge of the High Court of the Admiralty, Ireland and the principal contributor to 'An Officer of the Long Parliament'.
Maurice remained at Shepperton until he was forced to move out during the Civil War (1922–23) for fear of his life. He and his wife went to England and in August 1925 were living at Freshford Lodge, Freshford, Somerset. When they returned later that year they found that Shepperton had been occupied by another family and so they moved into The Castle which by then had lain empty for many years.
On the death of Maurice in 1948 The Castle passed to his only child, Rose-Marie Townshend [269], who in turn left it to her daughter Anne-Marie Cochrane Townshend [273].
Save for a few years at the end of the 19th century and despite many vicissitudes The Castle has remained as the principal family seat since about 1660. All four 'sites' of The Castle - namely Bryan's Fort, now a ruin, the original Castle of which only the foundations remain, its replacement, of which nothing remains, and the Dower House (present day Castle) are situated within 100 metres of each other on four separate sites.
1 The purpose of an entail was to keep the property and land of a family intact in the main line of succession. The heir to an entailed estate could not sell the house or land, nor bequeath it to anyone outside the family.
Owners
Shepperton is located just to the south of route N71 6km to the east of Skibbereen and close by Shreelane Lakes (Sheet 89 map reference W181356).
As noted above, John Townsend [214] and his siblings were left in the care of their uncles when their parents died young. When he came of age in 1758 John inherited lands at North and South Aghills, which had been held in trust for him. He built a fine house there which he called Shepperton and this line of the family became known as the 'Shepperton Townsends'.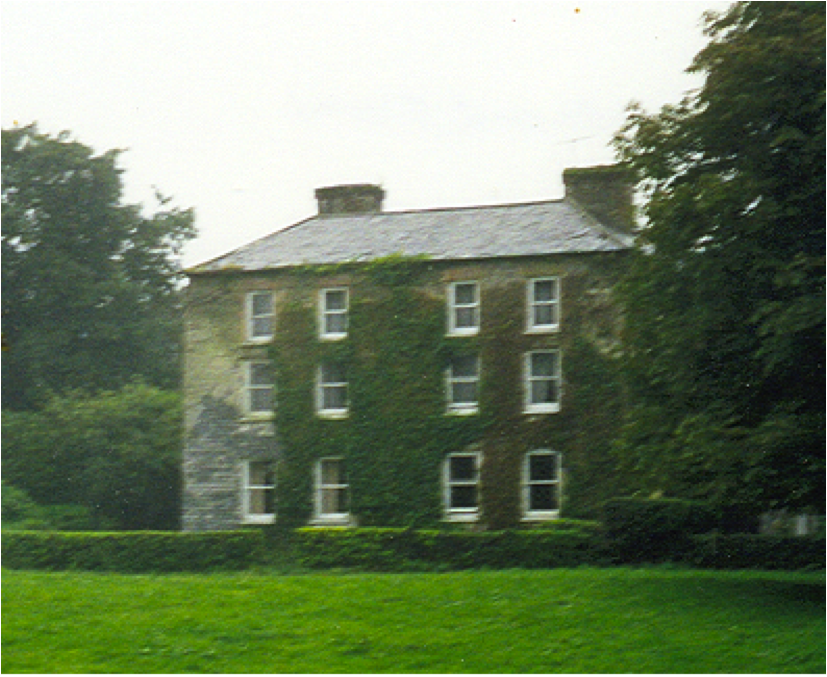 Shepperton
August 1999
Trained as a barrister, John aged 61 was appointed 'Commissioner and Overseer of the Barracks' in 1798 and a year later a 'Chief Commissioner of His Majesty's Revenues of Excise and Customs in Ireland'. He was elected a Freeman of Youghal in 1760, appointed a Justice of the Peace in 1775 and elected a Freeman of the City of Cork in 1788. He represented various constituencies in the Irish Parliament between 1790 and 1800.
When John died in 1810 Shepperton passed to his second son Jonas Morris Townsend [222] because his eldest son, Richard Townsend [221], had inherited lands at Dunbeacon previously owned by his Uncle, Henry Townsend [215]. Nothing is known about Jonas Morris other than he was a Justice of the Peace who, when he died in 1844, left Shepperton to his eldest son John Townsend [246]. Like his father nothing is known about John except, in a letter to John FitzHenry Townshend [250] dated 19 May 1853, his sister, Frances Townsend [248], wrote "My poor brother Johnny is hardly able to take care of his own concerns". That same year, aged just 29, Johnny died and left the house to his mother, Jane, who, when she died in Dublin in 1878, left Shepperton to Hubert de Burgh Townshend [264] then aged eleven.
Between 1878 and the time that Hubert resigned his army commission in 1891 it seems that the house was either let or left empty. However, Hubert most probably did live there whilst acting as agent managing the Castletownshend estate for his Aunt, Geraldine Townshend [252] from 1891 to 1897, as mentioned above.
After the sale of the Castletownshend estate in 1897, Hubert became sub agent for Lord Wicklow at Shelton Abbey, Arklow, and it appears that he remained there until he rejoined the army in 1900. He resigned his commission in 1903 but nothing is known about him or where he lived until 1907 when Guy's Almanac and Directory shows that, appointed a Justice of the Peace in 1896, Hubert was living at Shepperton. Four years later though, the 1911 Irish Census records that Mary Warren, aged 65, was living there, with her son Harold aged 37, various visitors and domestic staff and the house consisted of twenty rooms and had four stables. The Census records that Hubert was a boarder in the hotel in Glandore owned by Miss Bridget Keenan.
By the time that his brother Maurice moved into Shepperton in 1913 Hubert was again resident there but moved shortly afterwards and went to live at Kilfinnan Castle, Glandore — the home of his mother's family. As recorded above Shepperton was lost to the family in 1922.
Today the Shepperton branch of the family is extinct in the male line but is represented in Australia in the female line through descendants of Jonas Morris Townsend [237].
Owners
'An Officer of the Long Parliament' refers to this branch of the family as being of 'Skirtagh House' (modern spelling is Scartagh or Scurtagh). No such place has ever been found and this most probably refers to 'Skirtagh Cottage', which was located just to the east of Clonakilty (Sheet 89 map reference W3741).
Compared with his brothers very little is known of John Townsend [300] and it is strange that when the children of Richard Townsend [201] were left in the care of their uncles, as described above, John then aged 51 was not included as a guardian. Trained as a barrister it is thought that he did not practice for long. He was Sovereign of Clonakilty in 1719/20 and again in 1728 and it might have been during this period that he bought Skirtagh in the town. When John died in 1756 there is no record as to what happened to the house. The eldest son, Rev Richard Townsend [301], was presumably resident in his various parishes thus leaving the property to either John Townsend [303] or Philip Townsend [304]. Either way, 'Scartagh Cottage' was leased in 1783 to Dr. William Callanan a well known doctor, prosperous merchant and noted United Irish leader of the time. The Convent of Mercy was built on the site of Skirtagh Cottage in 1856.
'An Officer of the Long Parliament' contains very few details about this branch of the family and focuses primarily on Commander John Townsend [316] who joined the Royal Navy circa 1778 and saw much active service during the war against France. Poor eyesight forced him to retire from the navy following which he settled in Clonakilty and was appointed Recorder of the town. Two of his sons, Richard Boyle Townsend [332] and Horatio Townsend [334] took Holy Orders and his third son, John Sealy Townsend [333], was a most distinguished barrister, renowned for his brilliant advocacy and his photographic memory. He was a major contributor to 'An Officer of the Long Parliament'. Mention must also be made of Rev Richard Townsend [337] who was one of the finest mathematicians of his day. He was a Senior Fellow and Examiner in Mathematics & Mathematical Physics at Trinity College, Dublin and a Fellow of the Royal Society.
This branch of the family is now very strongly represented in Australia and in Canada. The Australian branch derives from descendants of Thomas Townsend [339] who emigrated in 1838 and his brothers Edward James Townsend [340] who emigrated in 1845 and James Townsend [342] who emigrated in about 1859. The Canadian branch derives from descendants of Thomas Townsend's first cousin Richard Townsend [335] who emigrated in 1846.
Owners
Whitehall is situated on the northern shore of Rincolisky Harbour on the south side of Roaring Water Bay 10km to the west of Skibbereen (Sheet 88 map reference W019302).
On the south side of Roaring Water Bay stands Rincolisky Castle. It was built in 1495 and was acquired by Sir Walter Copinger in 1620, who changed the name to Whitehall after the name of the townland on which the castle was situated. The Copingers removed the upper floors of the castle to build Whitehall House, which in 1690 was owned by James Copinger, the son of Dominic Copinger and his wife Dorothea Townsend [112]; however, it was forfeited by James that same year because of his loyalty to the Catholic cause and he fled to France.
Whitehall South Elevation
August 1999
When Samuel Townsend [400] acquired Whitehall it must have been strange for him, the grandson of a Parliamentarian (Colonel Richard Townesend), to own an estate forfeited by his cousin because of his religious beliefs. Elected a Freeman of Clonakilty in 1717, appointed a Justice of the Peace in 1737 and High Sheriff of Cork 1742, Samuel made significant alterations to Whitehall following his extensive travels in Italy. When he died in 1759 he left the property to his eldest son, Edward Mansel Townsend [401] (known to his kinsmen as 'Splendid Ned'), who did much to improve the estate when he was forced to give up hunting in his later years. He became a great agriculturalist and horse breeder. Discussing horticulture in his book 'Statistical Survey of the County of Cork', Horatio Townsend [5D00] wrote "(Edward) is greatly proficient in this style of gardening. When hounds became a subject of heavy taxation, he wisely exchanged the pleasures of the chase for those of the garden. This he superintends himself with care as well as 'con amore', and for, I believe, a smaller expense than that of dogs, hunters, and their appendages."
Whilst he never owned Whitehall, mention must be made of Edward's very distinguished brother, Lieutenant General Samuel Townsend [403] who, having matriculated from Trinity College, Dublin, was commissioned into Drogheda's Light Horse in about 1752. During his career he saw active service during the Seven Years War at the Siege of Belle Isle in 1761. In 1778 he was appointed Inspector General and Superintendent of Recruiting and ADC to King George III.
When Samuel Townsend [405] married Mercy Baldwin in 1794 his father, Edward, assigned Whitehall and the estate to him but reserved for himself a life annuity and the right to live there. However, unlike his father, Samuel, a naturally gifted and accomplished musician, did nothing to improve the property preferring to spend much of his time in England or Dublin, particularly after the Peninsula War. He was admitted a Freeman of the City of Cork in 1790, sat as a Grand Juror in Cork and was High Sheriff for County Cork in 1798.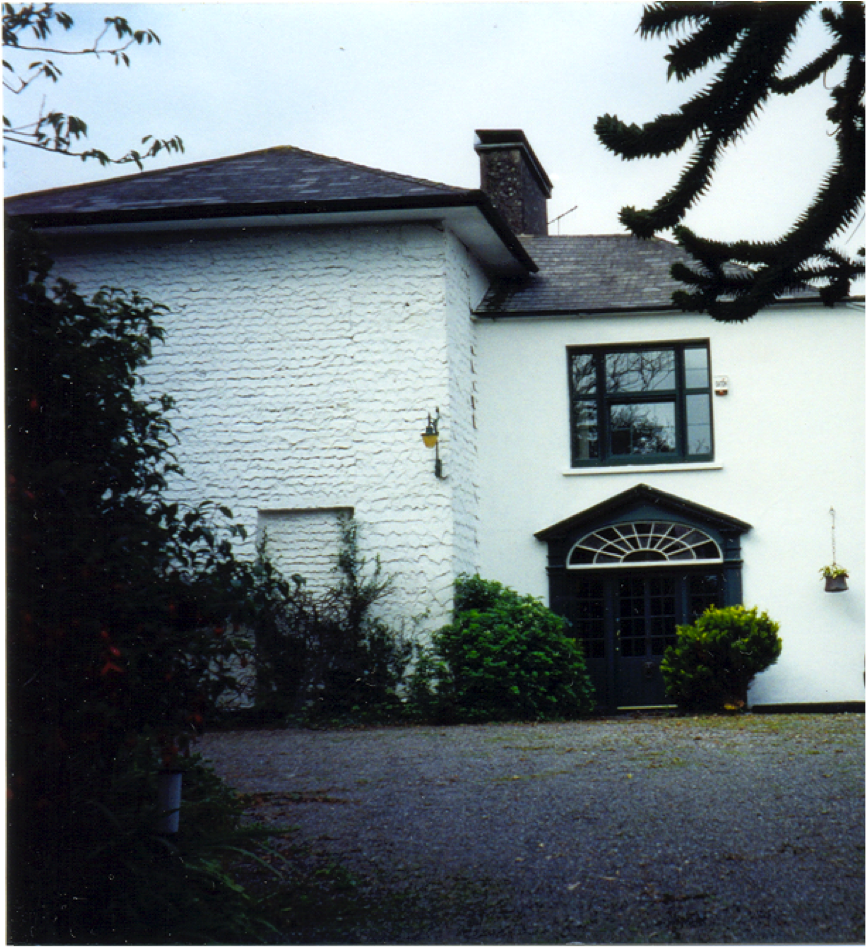 The Front Door, Whitehall
August 1999
Sometime shortly after 1815, when Samuel was away in London, Mercy made extensive alterations to Whitehall at a cost of £1,700. When Samuel returned he was astonished at the change but horrified by the cost; the bill was never paid and became an encumbrance upon the estate. After Mercy's death Samuel decided to let Whitehall to Lord Audley hoping the rent thus accrued would pay for Samuel to go abroad for the season. Sadly he was to be disappointed for the trip cost more than the anticipated rent, which in the event was never paid because Lord Audley was declared bankrupt.
When Samuel died in 1836 Whitehall passed to his eldest son, Edward Henry Townsend [411], who, according to his nephew Samuel Nugent Townsend [432], a well respected journalist and businessman, "buried himself in his books up to his last days at Whitehall". Nevertheless, he was an accomplished designer and builder of racing yachts and raced them extensively throughout Britain, winning many trophies. He was also the Secretary of the Royal Cork Yacht Club for many years. Edward's only son Samuel Richard Townsend [421] inherited Whitehall in 1857 but, other than sketchy details of his service with the North Cork Rifles, nothing is known about him. He never married and according to the un-published autobiography of Edward Mansel Townshend [630], who visited Whitehall in 1882, Samuel was a "foolish, dissipated fellow... It was small wonder that (he) died young, leaving no son to carry on the name." Edward Mansel went on to describe the house thus - "Whitehall, is a delightfully romantic old house, looking out to Cape Clear from a cove of Roaring Water Bay, amid 'Carbery and its Hundred Isles'. The rooms are almost palatial in size, all of them fifteen feet high on the ground floor and the drawing room and dining room each twenty five feet long by about eighteen feet wide."
When Samuel Richard died in 1879 his sister Anna Mary Townsend [423], who was living at Whitehall at the time, continued to live there until her death in 1891. The property then passed to Piers Townsend Hughes, the son of Anna's sister, Charlotte Frances Townsend [422] and her second husband, George William Hughes. Piers Townsend Hughes was born in 1868 and he changed his name by Deed Poll some time before 1892 for he is shown on Table X of 'An Officer of the Long Parliament' as "Piers Townsend Hughes Townsend". The April 1901 Irish Census shows him as "Townsend Piers. Landowner and Farmer" not married, living at Whitehall, with his mother and two domestic staff. Whitehall consisted of 18 rooms with a stable, a coach house and a further 10 outbuildings; Piers also owned four other houses in the townland. The April 1911 Irish Census records much the same but shows additionally that he was a Justice of the Peace, had been married for ten years and had a son aged eight and a daughter aged seven. Guy's City and County Cork Almanac and Directory 1913 continues to list him as living at Whitehall though he sold the property sometime later.
Samuel Nugent Townshend recorded in 1892 that the only surviving male in the Whitehall branch of the family was the five-year son of his brother Edward Becher Townshend [433]; this was Samuel Edward Townshend [441] who trained as a barrister at Sydney University and was Registrar at the University of Perth, Australia when he took a commission in the Army in 1914. He was killed at Gallipoli in May 1915. Thus this branch of the family became extinct in the male line though there is evidence (2010) that there might be a male descendant of Edward Townsend [445] — Edward Arthur Townsend [457].
The following is an extract from an article about the sale of Whitehall in the Irish News of 8 June 1999:
"The world-­class property, owned for many years by a German family, has its own beaches, a ruined castle, the 16th century Rincolisky Castle, and 100 acres of land as well as two walled gardens. The house has six bedrooms, separate staff quarters, a farmyard, a stunning setting with sea views around the headland from Baltimore, a jetty and moorings -­ but does not have a ballroom.
Whitehall House has portions dating back to the early 1600s, but most of it is 19th century and is in excellent repair. The vendors are the Schmitz family from Cologne who bought it in 1962."
DERRY
(Table V, Table VA, Table VB, Table VC, Table VD)
Owners
Derry is situated a short distance to the south of route N71 2km west of Rosscarbery (Sheet 89 map reference W W274372).
Colonel Bryan Townsend [200] bought the original house at Derry in 1686, and when he died in 1726 he left the property to his fourth surviving son, Captain Philip Townsend [500]. It was a castellated building standing about a quarter of a mile above the present house.
Elected a Freeman of Clonakilty in 1717 nothing is known about Philip in his early years, nor is it known how much land there was attached to the property when he inherited it. The Derry Papers show that Philip signed a 999 lease in 1740 for lands at Gurranaslotty and Derryanalane at a cost of £1,200. In the lease Philip is shown as "Philip Townsend of Castletownsend, gent". Seven years later he bought these lands for £1,805.
Sometime between 1749, when the 22nd Regiment arrived in County Cork for garrison duties, and November 1756, when the Regiment embarked at Cork for North America, Philip purchased a Captain's commission in the Regiment. It is odd that middle-aged and married for many years, he should go off to war taking with him his son, Thomas Hungerford Townsend [502] aged 19, leaving the remainder of his family in the care of his brother Horatio Townsend [600]. It could be surmised that the land he bought in 1747 overstretched him financially and he was forced to seek his fortune. In one of his letters from America he wrote "Commissions here, when allowed to be sold, sell for about twelve hundred pounds, but the expense of going home might perhaps reduce it to eleven. This will near clear my debts and if a good farm is to be had I might be able then to live, but as I have them two boys to educate, I don't know but a town life would be best..." Further evidence about his debts can be found in his will where he refers to being indebted to his eldest son Dr Richard Townsend [501] for two bonds, totalling £1,200.
Philip sold his commission sometime shortly after June 1759 and returned to Ireland. He was elected a Freeman of Youghal in 1760 and was appointed Sovereign of Clonakilty in 1764. Family tradition has always maintained that when Philip died in 1786 Derry passed to his son, Dr Richard and, according to 'An Officer of the Long Parliament', Richard then sold Derry to his youngest brother, Horatio Townsend [5D00], in about 1810. However Philip's will, dated 3 June 1781 and recently transcribed (2010), shows that apart from legacies and bequests for his other children he actually bequeathed Derry to his sons Thomas and Horatio as tenants in common — "all the rest and residue of my real estate that I have in the lands of Derry and all my personal fortune I give leave and devise to my two sons Thomas Hungerford Townsend and the Rev Horatio Townsend and their heirs forever".
When Thomas died unmarried in 1799 Derry was left in the sole possession of Horatio who built a fine new house there in the late Georgian style, consisting of four bay windows in the central block with wings set back on either side. Once he completed the house he set about improving the estate by planting trees and creating a lake in a hollow not far from the front of the house. In addition to building a new house and landscaping the gardens, Horatio bought a further 2,500 acres of land at a cost of over £2,000 between 1814 and 1827.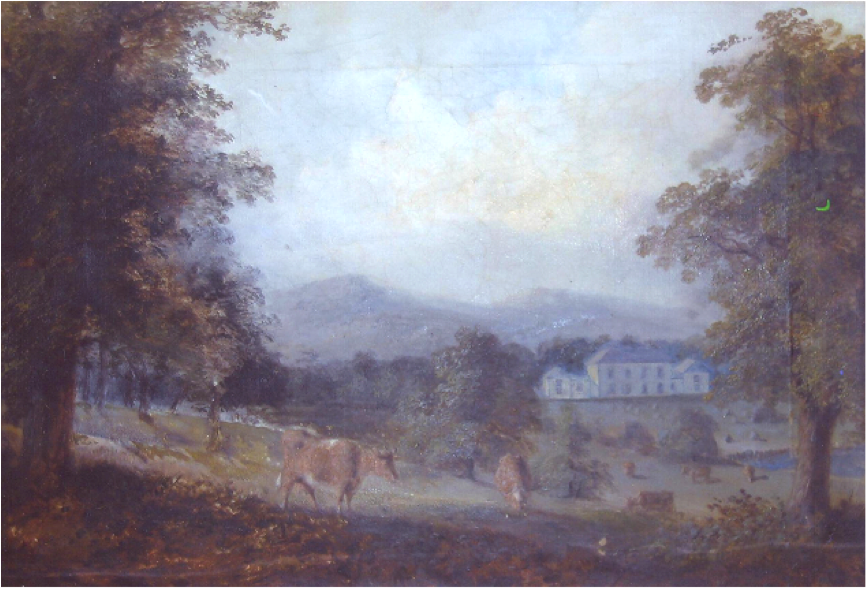 19th Century Painting of Derry
By kind permission of Maurice Philip Townshend [5D65]
When Horatio's son, Rev Chambre Corker Townsend [5D01], was licensed to the Curacy of Castrumventry in October 1825 he was living at Derry, which he subsequently inherited from his father in 1837 but, unlike his father and grandfather, Chambre did not acquire further land to enlarge the estate. Instead, after consultation with John Sealy Townsend [333], he drew up a Deed in 1846 in which he gave the lands of the Derry estate to his eldest son, Horace Townsend [5D12], with a proviso that should Horace die without male issue then these lands were to pass to Horace's stepbrother, Nathaniel Wilmot Townsend [5D13].
When Chambre died in 1852, Derry passed to Horace who spent much time and money improving it, adding the half-timbered extension on the left hand side. After his marriage to Mary Susannah Kirby in October 1855, when he took the additional name of Payne, he let her re-decorate the inside of the house in the latest English fashion. Sadly events over the next thirty years came to be dominated by an increasingly unhappy marriage. Mary tried to persuade Horace to leave Derry and this he refused to countenance, as he loved his home, his estate and the large extended Townsend family that lived in southern County Cork at that time.
By 1870 Mary, unable to endure living at Derry any longer, finally forced Horace to abandon his home and accompany her to Cork, thence to Dublin and finally to London in about 1877. Over the course of the next eight years Horace returned to Derry only occasionally; the last time being in October 1884.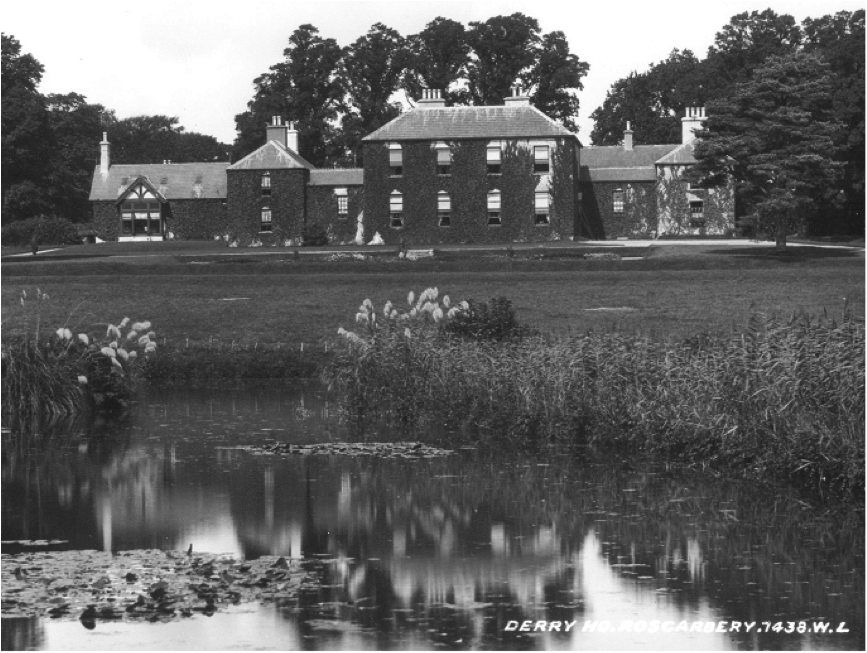 Derry ca. 1900
Courtesy of the National Library of Ireland
When Horace died in February 1885 he left Derry to his eldest daughter Charlotte Payne- Townshend [5D27] and the lands of the Derry estate passed to Horace's stepbrother Nathaniel Wilmot under the terms of their father's will. In September that same year notice of compulsory sale was served upon Nathaniel by the Chancery Division of the High Court of Justice Ireland — "It is ordered by the court that the lands of Derry.....shall be sold for the purpose of discharging the encumbrances thereon". According to the notice 3035 acres were to be sold with an annual rental value of just over £626 (over £50,000 in 2008). Matters dragged on for the next four years and were brought to a surprise conclusion when Horace's widow bought 493 acres of the land in question for £6,000. It would appear that this money was then used to clear the encumbrances upon the remaining lands. When Nathaniel died in 1896 the lands of Derry passed to his son George Chambre Wilmot Townshend [5D33] and, for lack of evidence to the contrary, it seems that these were disposed of soon afterwards.
William Tower Townshend [535] of Myross Wood, Charlotte's distant cousin, managed Derry and the estate on her behalf from about 1890 until it was sold. The April 1901 Irish Census records that he was a land agent and farmer living at 'House No 6' in Derry with his wife and four domestic staff. The house consisted of twelve rooms, two stables, two coach houses and a further twelve outbuildings. It is the largest house listed but does not accord with the April 1911 Irish Census which shows that the largest house was 'House No 1' which consisted of 22 rooms, 11 stables, a coach house, a harness room and a further 22 outbuildings. The 1911 Census shows William, then aged 55, living at 'House No 1' with his wife, three daughters, two children's nurses, a ladies' maid, cook and three domestic servants. The 1901 Census shows William as the owner of eleven houses and that of 1911 as owner of nine houses — these presumably belonged to the Derry estate, rather than to William personally, who in his own right owned thirteen houses on the Myross estate.
Charlotte loved Derry and would have spent much more time there after her marriage to George Bernard Shaw in 1898 had he shown an interest in the place. She visited the house with her husband in 1905, but to him it was just another Irish country house and this appears to be the last time that she visited Derry.
In 1915 Charlotte sold Derry to Mr A.M. Sullivan Esq. KC the last Sergeant at Arms before the founding of the Irish Free State. The house was partially destroyed during the 'troubles' in 1922 and today all that remains is the central section, most of the outbuildings and the walled garden.
Whilst the Townsend family no longer own Derry this branch of the family deriving from Captain Philip Townsend [500] thrives in the United Kingdom, Ireland, Canada and Australia.
Owners
Myross Wood is situated 1km south of route N71 and 1.5km west of Leap (Sheet 89 map reference W203359). There are two accounts of how Myross Wood came into the Townsend family and the first is most probably the correct one.
The entry for Myross Wood in the National University of Ireland (NUI) Galway Connacht and Munster Landed Estates Database and the Myross Retreat Centre website both record that the Rev Arthur Herbert, vicar of the parish of Myross and married to Helena Townsend [218], built a substantial and elegant house at Myross Wood. When the Rev Arthur died in 1760 the property continued in his family for some time but was later bought by the George, 3rd Earl of Kingston, and used as his home during the building of Mitchelstown Castle. During the time that he owned the house the Earl enlarged it around a courtyard, adding two drawing rooms, five family bedrooms, extensive servants' quarters and utility rooms. He also built twenty-two farmhouses and labourers' cottages. John Sealy Townsend [507], who previously lived in Merrion Square, Dublin, bought the property in 1826, the same year that he was appointed Master in Chancery, though it would appear that he let the house to the Copinger family — Samuel Lewis's Topographical Dictionary of Ireland 1837 records: — "Myross, the demesne of F. H. Copinger, Esq., is very large, extending northward to Leap, and affording the best woodland in the barony". Page 194 of 'Sketches in Carbery' (published in 1876) records "Near Leap is situated the demesne of Myross Wood, which has a very pleasing effect when seen from the opposite side, the green slopes and rising grounds being thickly wooded down to the water's edge. Myross House is a plain, substantial, and commodious-looking house; it formerly was the residence of the third Earl of Kingston, before he-built Mitchelstown Castle, one of the finest private residences in the south of Ireland. Myross House afterwards belonged to a Mr. Coppinger, and finally came into the possession of its present proprietor, J. H. Townsend, Esq." (John Hancock Townsend [523]).
The second account about the acquisition of Myross Wood is contained in a letter from Richard Arthur Townshend [259] to Dr Thomas Townsend [5A10] dated 28 January 1927. According to Richard, the Rev Arthur Herbert of Cahernane, father-in-law to John Henry Townsend [238], purchased Myross, in about 1799 from Mr Jervois of Brade. When the Rev Arthur Herbert died of typhus in 1818 in Cork his wife, Mary, sold the property to Lord Kingston in 1820 who subsequently sold it to Mr FH Copinger sometime between 1824 and 1837. John Sealy Townsend bought Myross from Mr Copinger sometime between 1837 and 1846 and lived there until his death. The Rev Arthur Herbert of Cahernane to whom Richard Arthur refers died in 1828 and is the son of the Rev Arthur Herbert of Cahernane who married Helena Townsend [218].
Called to the Irish Bar in 1787, John Sealy was appointed QC in 1819, a bencher of the King's Inn in 1824 and a Master of the Irish Court of Chancery in 1826. Like his namesake, John Sealy Townsend [333], he was a principal contributor to 'An Officer of the Long Parliament'.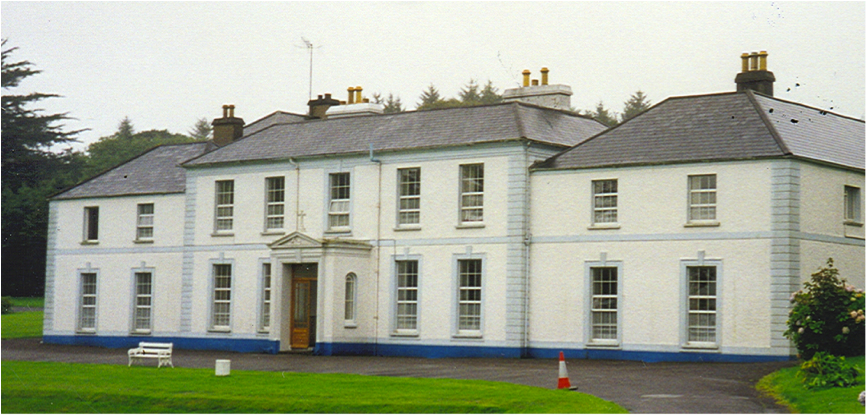 Myross Wood
August 1999
John's eldest son, Richard Townsend [513], pre-deceased him in 1839 so when he died in 1862 the Myross estate passed to his grandson, John Hancock Townshend [523]. John was a Justice of the Peace and an Ex Officio Member of the Board of Guardians for Clonakilty and Dunmanway.
Though he never owned Myross Wood, mention must be made of John Hancock's distinguished brother, Colonel Frederick Trench Townshend [524]. He purchased his commission as a Cornet in the 2nd Life Guards in 1861 and retired in 1891, having commanded his Regiment and seen active service with it in Egypt in 1882 for which he was awarded the Khedive Star and the Order of Osmania. Frederick, a Fellow of the Royal Geographical Society, was also an intrepid explorer and wrote a number of books about his travels.
When John Hancock died in 1889 Myross passed to his eldest son Captain Richard Harvey Townshend [534] who resigned his commission in the 88th Regiment of Foot (1st Battalion The Connaught Rangers) that same year. It would appear though that he handed over management of the estate to his brother William Tower Townshend [535] in 1890; a Hansard report dated 18 July 1890 records that "Mr. Townshend is reported to represent large properties in the two Baronies as agent for his brother and other owners".
'Slater's Royal National Directory of Ireland' shows William living at both Myross and Derry in 1894 by which time he was managing the Derry estate on behalf of his cousin Charlotte Payne- Townshend, as described above, as well as the Myross estate. A year later Richard Harvey rejoined the Army when he took a Captain's commission in the 3rd Battalion Munster Fusiliers but died four years later in 1899 and the Myross estate thus passed to William, then aged 54.
The April 1901 Census records that Katherine Emma Townshend, wife of John Hancock Townshend [523], was living at Myross with her son Arthur Edward, daughter Ellen Beatrice and five domestic staff. The house consisted of 26 rooms with three stables, a coach house and a further eleven outbuildings. The Census also shows that William owned 13 houses in the Brade townland. Guy's Directory 1907 for Co Cork shows William and his brothers Ernest Townshend [536] and Arthur Edward Townshend [537] as resident at Myross Wood in that year. However the Directory for 1913 shows Arthur Edward as the only resident there. Strangely the April 1911 Irish Census shows no members of the family living at Myross Wood but a search of it reveals that Colonel William FitzHenry Spaight and his wife were living in 'house 37 in Unionhall Town' in the Parish of Myross; this is most probably Myross Wood.
William and his wife, Geraline, returned to Myross Wood on the sale of Derry in 1915 and lived there intermittently until 1922 when Lord Curzon leased The Manor House at Bodiam Castle to them. Geraline suffered from chronic asthma and this had forced them to escape the very damp winters of southern Ireland. However, the family continued to live at Myross every summer until it was sold.
William's granddaughter, Valerie (Mollie) Townshend Garratt (see the entry for Blanche Townsend [560]), remembers staying at Myross with much happiness. She also recounts the following anecdote. "In about 1917, during the troubles in Ireland, my mother, her sisters and a governess were alone in the house. Sinn Fein were intent on destroying landlords' houses round about, but spared Myross because of their respect for my grandfather as a good landlord, and confined themselves to burning the stables having first carefully removed the horses and the car."
Questions about compulsory purchase of the Myross estate were asked in the Dail on 8 May 1940. The Minister for Lands was asked if "Mr. W. Tower Townshend" was going to "offer the lands for sale at an early date" or whether the "Land Commission will proceed with negotiations for the acquisition of the lands". The reply was that the Land Commission "has not yet come to a decision on the question of their acquisition." Subsequently, William sold the estate to Mr Cleary in 1940 or 1941. In 1947 it was acquired by the Missionaries of the Sacred Heart and is now a Retreat Centre and Community Residence.
The Myross Townsends survive in the female line only, through Blanche Hermione Townshend [560].
Owners
The Glebe House, Coolmona, Donoughmore is situated 14km NW from Blarney about 1km to the south east of Downey's Bridge on the R619 road from Coachford to Mallow (Sheet 80 map reference W509826).
Horatio Townsend [600] was appointed Rector of Donoughmore in 1732 and retained the living there until his death in 1772. In 1752 he built the Glebe House at Coolmona, Donoughmore at a cost of £433; his annual income in 1762 was £300. According to Brady's Clerical & Parochial Records Volume 2 pages 190/191 the Glebe House was unfit for habitation in 1801, having been condemned in 1788 — just 16 years after Horatio died. Extended in 1840, Brady's further records that by 1860 the house was restored. The ground floor comprised a sitting room, dining room, living room, large kitchen and study with a basement underneath. On the first floor there were six bedrooms and a further three rooms in the attic. Outside there were stables, stalls, a coach house and a gardener's house in an enclosed yard.
The Glebe, Coolmona
Courtesy of Gerard O'Rourke
By the time of Horatio 's death his children had established themselves elsewhere.
Horatio's eldest son, Rev Edward Synge Townsend [601], known in the family as 'The Apostle' on account of his benevolent looks and flowing white locks, started his ministry as Curate at Donoughmore. By the time of his father's death he was curate at Inniscarra and when he died in 1819 he was living in Kinsale.
Horatio's s second son, Richard Townsend [6A00], bought Pallastown House, on the west bank of the Belgooly River 4km north east of Kinsale (Sheet 87 map reference W: 657532). His third son, Samuel Philip Townsend [6A03], succeeded to the property in 1805 and he purchased Garrycloyne House from John Travers in 1837. This house, 5km north of Blarney on the road from Blarney to Mallow (Sheet 80 map reference W593803), consisted of 16 rooms, two stables, a coach house and four other outbuildings. Samuel Philip's eldest son, Richard Horatio Townsend [6A10], inherited the prooerty in 1864 and it remained in the family until it was sold to a Cork grazier in 1940 by which time it was virtually derelict. It had been let since 1897 when the then owner, Samuel Philip Townsend [6A20], emigrated to Australia.
Horatio's third son, Samuel Philip Townsend [6B00] bought Firmount, some 4km due east of Donoughmore on the R619 road from Coachford to Mallow (Sheet 80 map reference 533820). The house passed to Samuel's eldest son, Horatio Townsend [6B01], in 1800 who, like his father, was a keen and competent agriculturalist and when he died in 1864 it passed to his eldest son Major John Crewe Chetwood Townsend [6B04]. John died just nine years later leaving a three-year-old son, Samuel Charles Chetwood Townsend [6B24]. It is not known whether his mother brought Samuel up at the family home at Firmount or sold it and returned with her children to her childhood home at Garrycloyne where her brother, Richard Horatio Townsend [6A10], was then living.
The Donoughmore branch of the family thrives today and continues to do so principally in the United Kingdom and Australia. The clergy is and has been well represented particularly in Table VIA, the military are well represented throughout and Table VIC abounds with doctors. Many have achieved much during their life or had remarkable experiences. To name but a few: