Stellar evolution movies
In teaching the Astronomy 310 (Introduction to Stellar Astrophysics) course, I've found movies a very useful tool for illustrating stellar evolution. Hearing about the helium flash of a RGB star is one thing; however, actually seeing how neutrino cooling in the core develops the temperature profile responsible for off-center helium ignition is a whole different kettle of fish.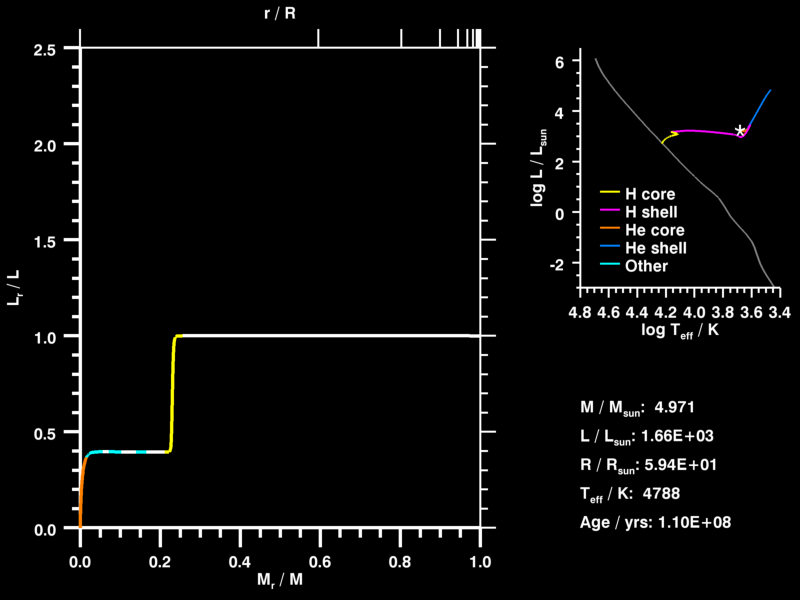 A single frame from the luminosity movie for the 5 M☉ movie, showing the core helium burning / shell hydrogen burning phase of the star's evolution.
This page hosts a grid of stellar evolution movies, calculated using my EZ-Web code. The grid spans a range (0.5 M☉ – 20 M☉) of initial stellar masses M; for a particular mass, a set of movies illustrates the evolving internal structure of the star. The image to the right shows a single frame from one such movie. The main graph shows the interior luminosity Lr plotted as a function of Lagrangian mass Mr (lower abscissa) and radius r (upper abscissa). The line color is used to indicate the local energy production mechanism: yellow is hydrogen burning, red is helium burning, and blue is gravothermal energy release (or absorption) due to contraction (or expansion). In the upper-right corner, the star's evolutionary track in the Hertzsprung-Russell diagram is plotted, with an asterisk showing its current position. Below this HRD, the star's current mass, age and other properties are indicated.
The movies have dimensions 800 x 600, and are encoded using FFmpeg, with an MPEG-4 Part 2 codec inside an MPEG-4 container. They should work with Apple's Quicktime player. More information on movie formats can be found here.
Download Movies
To download an individual movie, choose the desired initial mass M and the variable to plot; then hit the Submit button.
Each file is around 10 MB in size. Filenames follow the convention ez-web-MM-TT.mov, where MM is the mass in solar units, and VV is the variable (e.g., logT for the logarithmic temperature).
---
Updated 2011-02-08 07:33:52