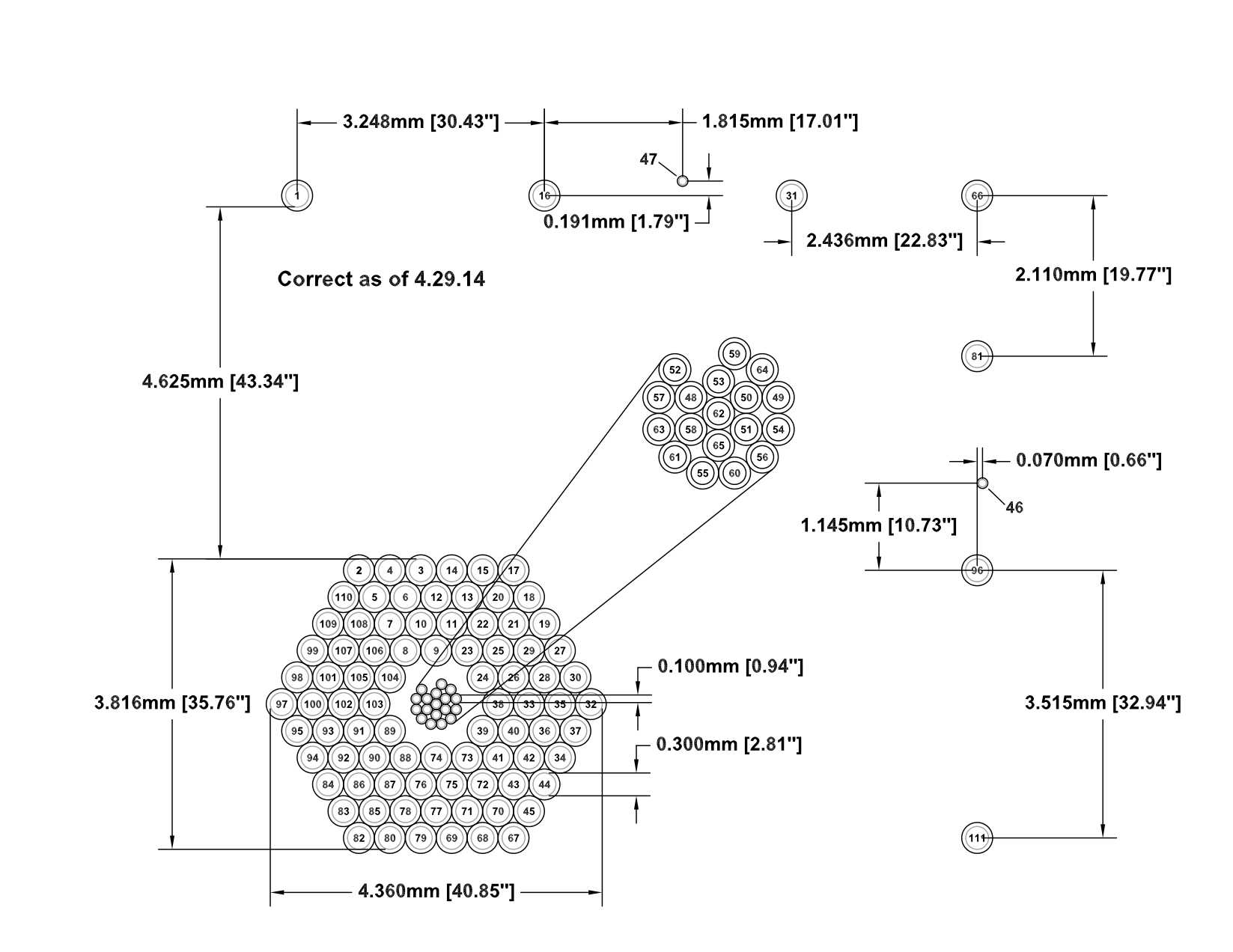 HexPak and GradPak are two variable-pitch IFUs that merge into a single slit-mount that feeds the WIYN Bench Spectrograph. Each IFU forms a separate (but parallel) fiber pseudo-slit within the common mount. They are designed for only one IFU to be used at a time, while the other is stowed with a light-tight cap. Variabe pitch means that there are varying fiber diameters bundled together in each IFU with different spacing. These are the first variable pitch and first dual-slit IFUs every built. Each fiber size has is own instrumental resolution and grasp, with implications for observations and calibration, discussed here, as well as data reduction (e.g., sky subtraction), discussed here. Fiber sizes given in arcsec below all adopt a focal-plane scale of 9.374 arcsec/mm.

Some initial technical publications include Wood et al. (2012), Eigenbrot et al. (2012), Hopper et al. (2015). A forthcoming paper on GradPak will be available later in 2016.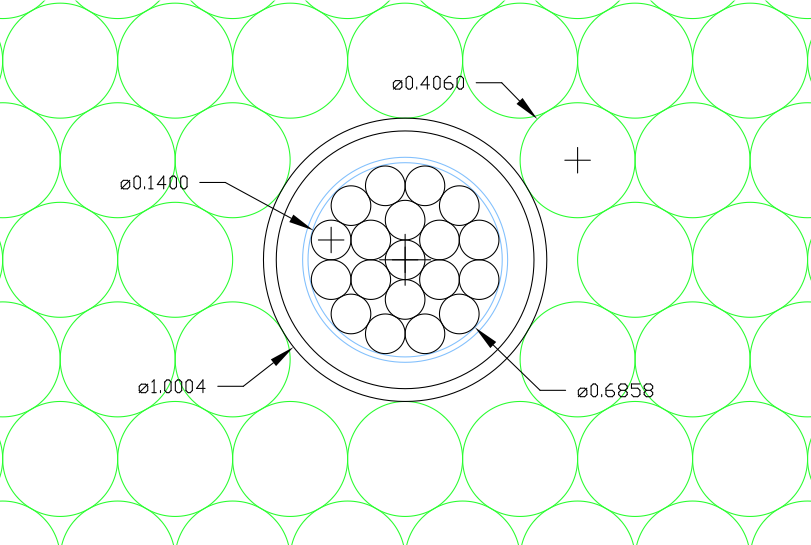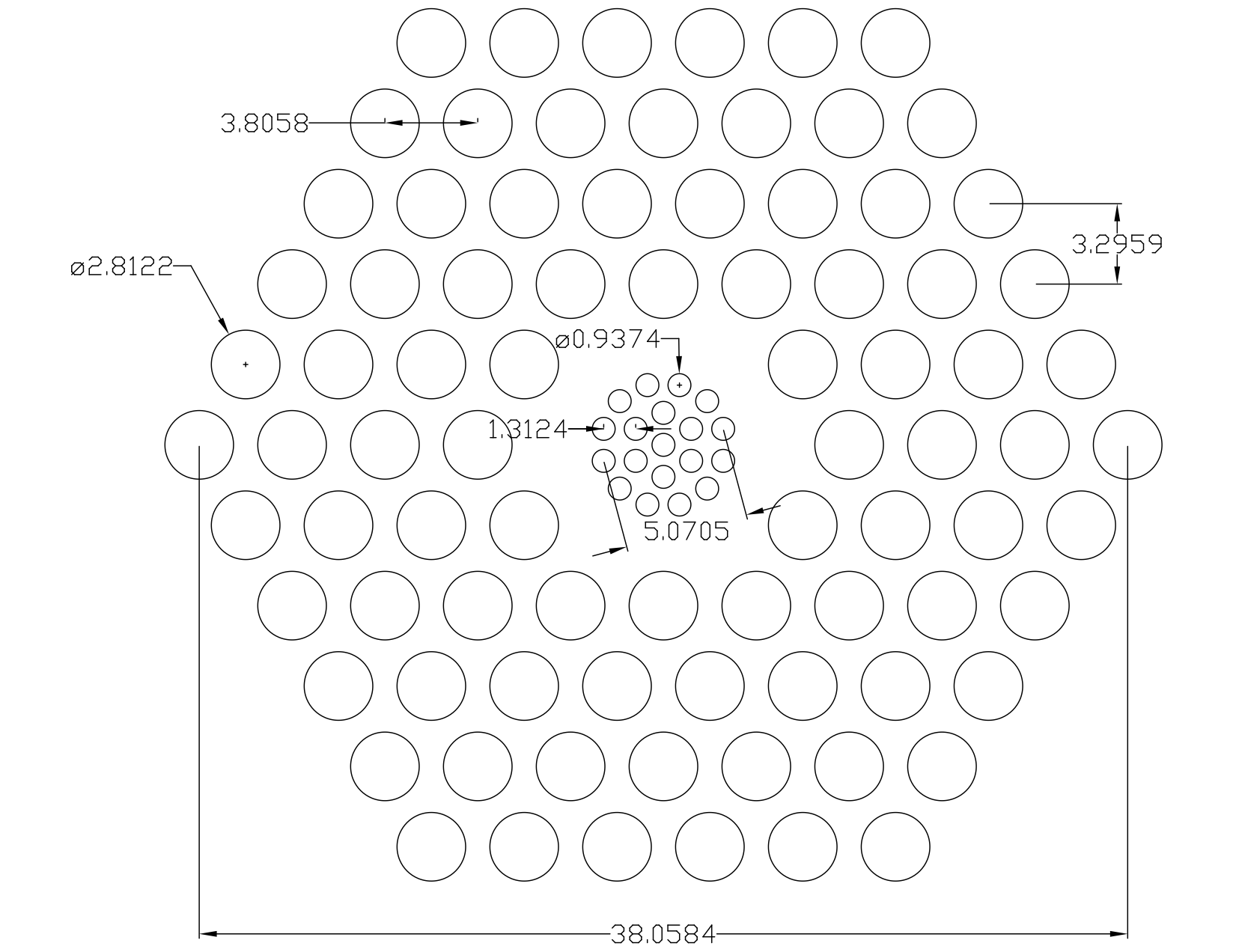 HexPak (astrometric map at left) is roughly a 41 x 36 arcsec hexagon of 3 arcsec fibers re-purposed from an earlier IFU (DensePak) with a core of 18 1-arcsec fibers in three rings (one fiber in this core broke during fabrication). The purpose of this IFU is to map fairly axisymmetric (e.g., low inclination, low ellipticity) extended objects where there is a premium for high angular and/or high spectral resolution in a high-surface brightness core while at the same time obtaining adequate signal in a lower surface-brightness periphery. In particular, one of the issues this IFU attempts to minimize is the beam-smearing problems inherent to large-fiber IFUs such as SparsePak, while maintaining large grasp in faint, outer regions. Sky fiber locations: There are 7 3-arcsec sky fibers and 2 1-arcsec sky fibers spaced in an L-shaped perimeter (like SparsePak) approximately 43 arcsec from the edge of the hexagon outer edge, or about an arcmin from the hexagon center. Fiber sizes and types: The exact fibers core sizes are 2.812 arcsec (300 microns) and 0.937 arcsec (100 microns). The small fiber is Molex/Polymicro FBP broad-spectrum fused silica with NA~0.22 and core:clad:buffer ratios of 1:1.2:1.4. The larger fibers have uniform 406 micron outer diameters (corresponding to a core-to-core spacing of 3.806 arcsec), but the core material are of mixed provenance as inherited from DensePak, which was believed to be a mix of "wet" and "dry" fibers handed down from the ancient times of Nessie, and not unlike the Hydra red and blue fibers. Some detailed maps of the hexagonal array and core meterology are given in figures, above right.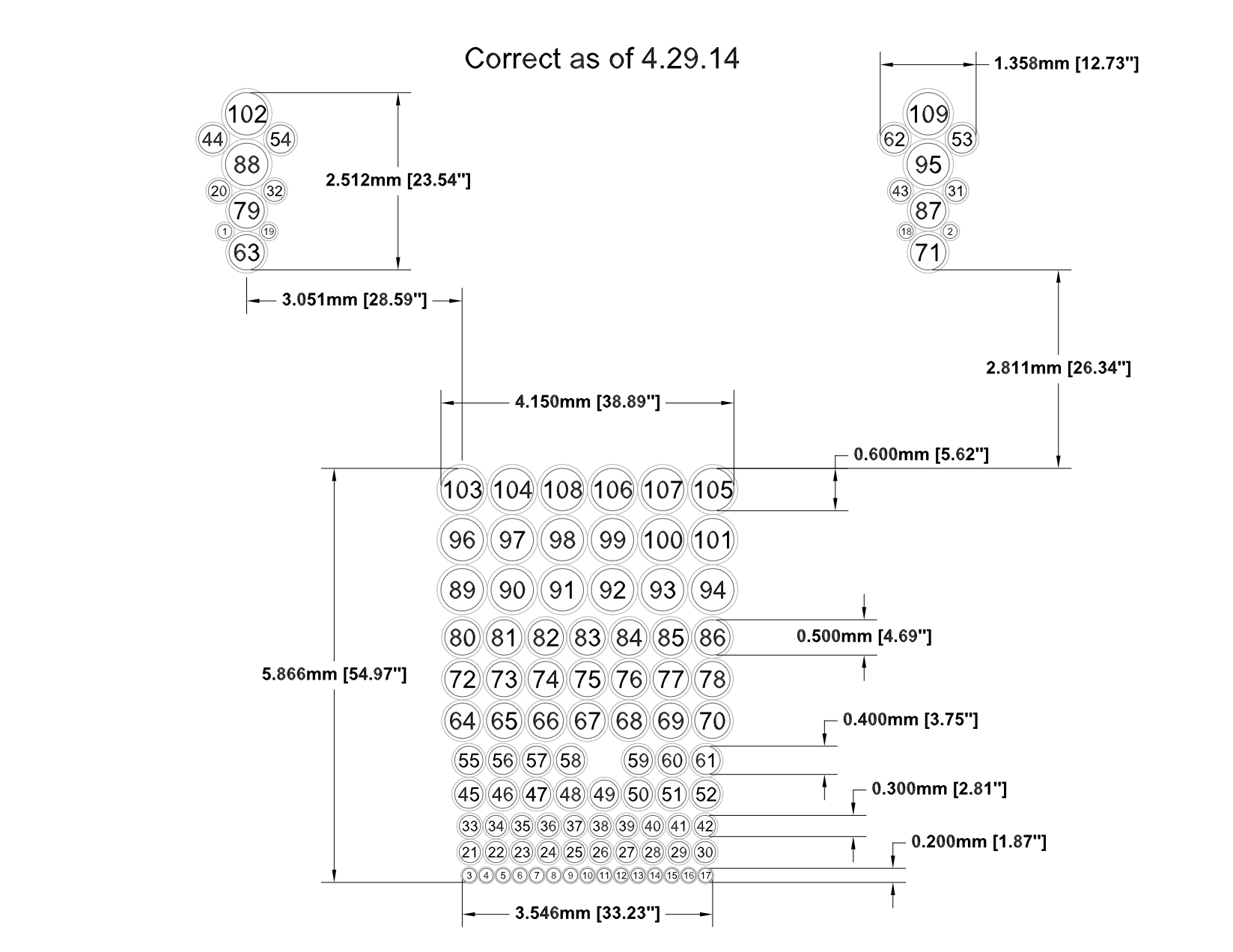 GradPak (astrometric map left) is roughly a 39 x 55 arcsec rectangular array of 11 rows of fibers comprised of 5 different sizes from 2 to 6 arcsec, in increments of 1 arcsec. The fiber size gets progressively larger from one end of the array to the other. (One 4-arcsec fibers broke during assembly and polishing.) The purpose of this IFU is to map vertical gradients in highly-inclined spiral disks. Sky fiber locations: There are 4 sky fibers of each size located in two groups separated by rougly 26 arcsec from one edge of the array (where the fibers are largest), and from each other by slightly over one arcmin. The detailed arrangement of the sky fibers was driven by the need for a relatively simple packing scheme. Fiber sizes and types: The exact fiber core sizes are 1.875 arcsec (200 microns, row 1), 2.812 arscec (300 microns, rows 2-3), 3.750 arcsec (400 microns, rows 4-5), 4.687 arscec (500 microns, rows 6-8), 5.624 arcsec (600 microns, rows 9-11). All fibers are Molex/Polymicro FBP broad-spectrum fused silica with NA~0.22. The core:clad:buffer ratios are all rougly 1:1.1:1.2.

Slit design: The GradPak slit has fiber sorted by increasing size, while the HexPak slit has the small fibers (centered in the IFU hexagon) located also in the center of the slit. An actual image of the slit is shown at above right, where both IFUs are simultaneously illuminated. The fiber numbering in the maps indicate the location in the slit. These are given in the two schematics shown below, although there are some inconsistencies in the numbering due to the fact that there are a few broken fibers and the numbering in the IFU plan has been forced to be consequitive. [TODO] Sky-fiber locations: For GradPak there are 4 sky fibers for every fiber size. They are mapped into the slit such that they bracket and span the block of fibers of their corresponding size, spaced uniformly along the block. This means that there are two sky fibers adjacent to each other at the junction of every fiber-size block. For HexPak, the seven sky fibers for the larger fibers are spaced in the upper and lower blocks in the same was as for GradPak; they bracket and uniformly span each block except...[CONFIRM. Also figure out where small sky-fibers are.]