| | | | |
| --- | --- | --- | --- |
| Scope | Design Requirements | Early Results | Delivered System |
The VPH grating development for the Bench was initiated by Barden (see, for example Barden et al. 2000, PASP, 112, 809) as part of a more general NOAO effort in advanced instrumentation. The advantage of VPH gratings relative to conventional surface-relief gratings is their high throughput (up to 90%), large super-blaze (i.e., good efficiency over a broad range of tunable central wavelengths), low scattered light, and transmisivity instead of reflectivity. The latter permits more compact spectrograph designs, particularly for large incidence-angle (i.e., high dispesion) setups, which allows for more optimum pupil placement, and hence less vignetting.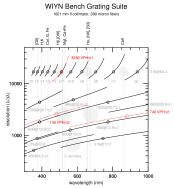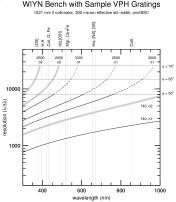 The existing surface-relief grating suite for the WIYN Bench Spectrograph delivers a wide range of coverage in wavelength and resolution, as shown here in the left-hand figure. A completed Bench upgrade may include a set of VPH gratings which replace or augment the current capabilities of the existing gratings in this plane. Some examples of possible VPH grating suites are shown in the right-hand figure.
Two gratings resulting from the initial VPH effort, as contracted to Centre Spatial de Liege (CSL), will be part of the initial Bench Spectrograph upgrade: 740 l/mm and 3550 l/mm gratings. These are shown as red curves in the above, left figure. At this time, testing is underway on the 740 l/mm grating. The development is mature enough to offer the grating in Shared Risk mode for 2005B. We have taken delivery of a test-version of a small high-line-density grating (3300 l/mm). This was made on float glass and is not science grade. The high-density (3550 l/mm) science-grade vph grating is still under manufacture as of April 2005.
Grating Pages:
Summary of Initial "Upgrade" VPH Grating Parameters
Grating Substrate
DCG parameters
physical aperture
clear aperture
Grating
Name
l/mm

d
(um)

dn
n=n2
phi
height
(mm)
width
(mm)
depth
(mm)
height
(mm)
width
(mm)
substrate
material
index
n1=n3
grating
man.
post-polish
coating
mount
v740a
740
17
14 effective
0.03
1.43
0
220
219.46
240
239.55
24
24.55
200
211.5
Diamant float glass; 2x12mm thick
?
CSL
Yes; 2D Strehl of 0.7, 0th-order transmission; 2D Strehl of 0.1 for -1 order; LLNL
Yes; soft MgF2; KPNO
completed; KPNO
v3300a
CSL/WP3200
3300
12
0.048
1.43
0
120
170
24
100
150
Diamant float glass; 2x12mm thick
?
CSL
TBD
TBD
TBD
v3550a
CSL/WP4200
3550
6
pending
0.10
pending
1.5
pending
0
230
500
30
210
480
Zygo
FS 7980 2F
1.462
at 20 C and 1 atmos.
CSL
No
Yes; TBD
TBD
Notes-
See v740a   page for performance and optomechanical details. The effective d for this grating apparent comes from "RCWA interpolation" (Pierre-Alexandre Blanche, CSL, private communication, 2004.02.09)
See v3300   page for performance and optomechanical details.
Diamant float glass vendor: Saint-Gobain Glass.
Green numbers are measured values as delivered.