The Turbulent Life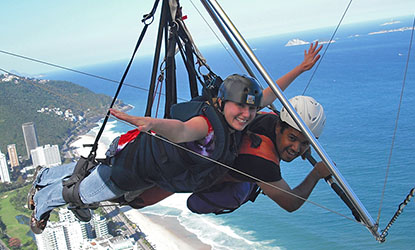 Blakesley Burkhart hang gliding in Rio de Janeiro, Brazil
Growing up in Louisville, Kentucky in the 1990s as the daughter of a fifth-grade school teacher and thoroughbred race horse trainer, Blakesley Burkhart found it easy to fall in love with astronomy.
"These were the golden years of the Hubble Space Telescope and the Mars Pathfinder," she says. "And the coming of the Internet made it easier for the public to feel a part of the latest discoveries of the universe."
Following this passion, Blakesley majored in physics and applied mathematics at the University of Louisville and came to the UW in 2007 as a Research Experiences for Undergraduates (REU) student. Her project with Professor Alex Lazarian went well, and she published her first paper in the Astrophysical Journal. During that summer she fell in love with research on the interstellar medium—and with Madison—and decided that the UW was the place to do her graduate studies.
Now a fourth-year graduate student, she's working with Professor Lazarian, trying to better understand turbulence in the interstellar medium and magnetic fields by connecting observations, numerical simulations and theory. "Studying magnetic turbulence is of critical importance to so many different aspects of astronomy, and it also encompasses some of the most beautiful theories in all of physics," she says.
Blakesley sees a vast opportunity to make a positive impact on people's lives by sharing her love of science with them. She believes that astronomy has huge societal benefits. "The more people are aware of the scope of the grand universe of which they are a part, the more we will come together as a human race and abandon tribalistic tendencies. If everyone realized just how alone we are in the vastness of space and how precious our planet is, we might be kinder to each other and to the Earth," she says.
Blakesley is involved in astronomy outreach around the world. She attended the 2010 Communicating Astronomy with the Public conference in South Africa, where her talks about the department's Universe in the Park and Washburn Observatory programs gained international attention, and then did demonstrations at SciFest Africa 2010 for thousands of South African educators and children. She has also done outreach in Indonesia, where she chatted with girls in the small village of Pati, Java about science, being a woman in science and going to college.
Closer to home, Blakesley's outreach efforts are felt throughout the state of Wisconsin. As the department's current outreach coordinator, she hosts a weekly show, "In Our Backyard: Radio Astronomy," on Madison's community radio station WORT; gives talks at Space Place; is active in the Universe in the Park program; is involved in the annual Expanding Your Horizons program for middle-school girls; and participates in the annual Physics Fair and science exhibitions. She has done demonstrations and discussed careers in science at several Madison-area schools; is a coordinator for the Women of Wisconsin Strengthening Astronomy (WOWSA) group, which promotes women in astronomy; and was a Madison Middle School Science Symposium mentor last year. Her love of teaching also led her to obtain a master's degree in physics in order to prepare for future faculty positions in a wide range of colleges and universities.
Blakesley's life is full of turbulence beyond her involvement in research and department activities. She loves to travel, and her studies have taken her to spots on five continents, including Brazil, Europe, Indonesia, South Africa, Costa Rica and Arizona. "If you have a travel bug, astronomy's a great field to be in," she says. Her future plans include finishing her PhD and getting a post-doc. In her spare time, she loves riding her Kawasaki Ninja motorcycle, is a certified yoga teacher, does Bikram/Vinyasa yoga, brews beer and plays ultimate Frisbee. She's a captain of the Einstein Ringers ultimate Frisbee team, composed of mostly astronomy and physics grad students. The name is a play off of the gravitational lensing phenomenon and the frisbee term ringer, which means a very good player.
Blakesley's list of awards is extensive. She received the 2011 Jansky Award for her outstanding accomplishments in research as a grad student, NASA's Wisconsin Space Grant Fellowship, a National Science Foundation Graduate Research Fellowship in Astrophysics, and a NASA Outreach Award for her department blog, madtownastro.com.
"Coming to the UW was one of the best decisions of my life," says Blakesley. "I'm very happy here and love the department and all the opportunities it provides for its students."